Welcome to

---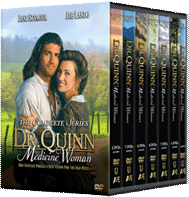 Would you like to make a donation to support this site? It takes time to maintain this site, and money to pay for domain registration ($25/year) and hosting ($15/month). Thanks to the generous support of fans, we are still running after 20 years and going strong.
If you'd like to help, use the button below. Your donation is tax deductible, and a receipt will be sent to you upon request. Thank you for your support.

Catch re-runs of Dr. Quinn on Hallmark Drama. Episodes are running in their original order, including season 6, and they cycle around.
The 2 movies, Revolutions and The Heart Within, also air periodically.
View and share other promo videos


The Dr. Quinn Mega-Set released October 28, 2008.
The Dr. Quinn Slimline set released October 20, 2009.
The entire collection of Dr. Quinn on DVD is available in one mega-set leather-bound packaging or a convenient slimline pack. View other ordering options here.
Download "Mike and Sully's Love Story" -- cut from the megaset at the last minute; exclusively available at this site.

DR. QUINN, MEDICINE WOMAN, a high-spirited, hour-long Western family adventure series from The Sullivan Company and CBS Entertainment Productions, is built around the exploits of Dr. Michaela ("Mike") Quinn, a refined woman doctor who moves from the highly civilized world of mid-19th century Boston to a rough-hewn frontier town in 1860s Colorado to start her own medical practice.
Film and television star Jane Seymour ("Live and Let Die," "Somewhere in Time," "War and Remembrance") is Dr. Quinn, the strong-willed, liberal-minded Easterner who befriends an enigmatic mountain loner, Byron Sully (Joe Lando), and winds up adopting three children (played by Chad Allen, Erika Flores/Jessica Bowman and Shawn Toovey) when their mother dies of a rattlesnake bite.
While the headstrong Michaela can be tough, Beacon Hill never prepared her for such a rugged world where the people are as coarse as the climate and their ideas seem from another time. By having Dr. Quinn's sophisticated values clash with the considerably cruder mindset of her Western neighbors, the series is able to explore situations and issues that are very much a part of life today. Whether championing the cause of gun control, exposing environmental polluters, battling disease or sexist cowboys, or liberating oppressed frontier women, Dr. Mike, at great personal risk, bucks the conventional wisdom of the Old West and emerges as more than just a pioneering feminist.
In the tradition of "Little House on the Prairie," DR. QUINN, MEDICINE WOMAN is steeped in traditional family values and an understanding of the spirit and strength that built America.