Colorado Springs Depot
All Aboard! Now Leaving Colorado Springs

---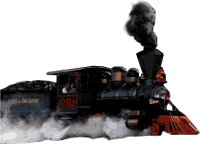 The Colorado Springs Depot offers the opportunity to purchase your ticket to destinations which include a variety of informational and educational as well as fun tours throughout the world wide web. Share your favorite destinations with us and others who visit this town.
The links and sites will be monitored and visited before being approved. Do you have a favorite site that you like to visit? Would you like to share it with everyone else who visits this town? We love to improve our list of available destinations connected to our town of Colorado Springs, so send us your favorite link! Make sure you provide the URL for the link, the name of the site, and a brief description. If we don't receive all 3 of these items, the link will not be posted.
All destinations below will open in a new window. When you have completed your visit, simply close the window to return to this page.
Colorado Springs Trading Post - inquire about trades with other visitors
Brandon Douglas website - First appearing as an icebox swindler, he returns with Mrs. Elizabeth Quinn as Dr. Andrew Cook to help deliver Michaela's first baby. However, he decides to stay. Take a look and learn about this great actor's other claims to fame.
Chad Allen Official Web Site - On Dr. Quinn, he made a smooth and successful transition from teenager to young leading man and has kept himself busy after the cancelation. A lot of info on the talented actor Chad Allen who has grown up in several successful series.
Colleen and Andrew German Page - Information and translation of Colleen and Andrew fan fictions from English to German. Also includes information about the actors and characters from the show.
David Beecroft Page (unofficial) - Biography, filmography, current news, photos and a lot more about this much-appreciated actor from the later seasons of Dr. Quinn. Visit this site to learn more.
Denny Miller - Starring in the 2-part episode, Dead or Alive as Noah McBride, he was also a regular on Wagon Train and for the last 9 years had been the Gorton's Fisherman! He has appeared in Lonesome Dove, Bordertown and many other Westerns.
Erika Flores Online - Unofficial web site devoted to the diva of Dr. Quinn, the young lady who first played Colleen. Features photos and more.
Erika Flores Tribute - Unofficial web site including a photo gallery, screen shots, filmography, message boards and links.
Frank Collison Official web site - playing the often bumbling telegraph operator, he quickly won his place in the hearts of many fans. See his long list of other theatre, television and movie credits and read his bio.
Geoffrey Lower web site - Although not really given a chance to showcase his talents enough on Dr. Quinn, Geoffrey still gave quite a performance as the Reverend Timothy Johnson. Check out his other involvements outside of Quinnland.
Hélène Udy web site - Tribute to Hélène Udy with biography, quotes, photos, Dr. Quinn information, filmography, and so much more!
Jennifer Young's Official web site - Learn all about her music and order one of her CDs. You can even contact Jennifer directly through the site.
Jessica Bowman webpage - She replaced Erika, when Erika's left the show. Find out where else this young actress has been seen.
Jim Knobeloch Fan Page - He played the sometimes melancholic barber, Jake Slicker, with an alcoholic past. His soft spot was children, having been abused himself as a child. Come find out more about his role and his career since Dr. Quinn ended.
Joseph Ashton - Playing 'Looks for the Sun' on Dr. Quinn, he's a young actor you might have seen in films like The Education of Little Tree and Where the Red Fern Grows. Check out his website for more info on this talanted actor.
Larry Sellers - Written in Czechoslavakian, this site covers his biography, filmography, photo album and time on Dr. Quinn. Also includes a guestbook and links page.
McKay's Story - If his brief appearance in just 6 episodes didn't stop you from noticing him, this is the place for you: learn all about Sgt. Terence McKay, read original fiction, see pictures, and find out that David Beecroft is a remarkable actor.
Michael Greyeye's Official Fan Site - He played Walks in the Night on Dr. Quinn and became a background presence at the Cheyenne reservation during the latter seasons. See what he's been doing since that role and interact with others who appreciate his talents.
StarMania's Official Shawn Toovey Web Site - Everything and anything you would want to know about the child actor who portrayed Brian on Dr. Quinn.
William Shockley's Official Web Site - He was the incorrigible barkeep with a heart of gold, only he never let anyone see it. Check out his site for more information about this roguishly handsome and very talented actor.
Jane Seymour Official Fan Site - Online source for official Jane Seymour information, appearances, news and updates. Also featuring movie reviews, photo albums, an entire section devoted to Dr. Quinn, and more! Come visit and see for yourself!
Jane Seymour Official Web Site - Browse through her art, her designs and learn about her jewelry collection, plus view her latest projects or products. Details are available for industry contact information as well.
French Joe Lando Site - Biography, filmography, latest news and many more things await you as you explore all about Joe ... in French!
Joe Lando Web Page: The Official Home of Joe Lando on the World Wide Web - Everything you ever wanted to know about Joe Lando, featuring photos, coverage of all his film roles, a recipe corner, multimedia, articles, a chat room, a message board, notes/messages from Joe, and more.
Austenesse: Jane Austen and Dr. Quinn - A site to honor a great lady whose spirit and courage is widely admired. Dr. Quinn, Medicine Woman. Fanfiction, novels, vignettes and much more! Regular updates. Post your Fanfic at our Storyboard.
Branduin's DQMW Site - A site for anyone and everyone who loves the series Dr. Quinn, Medicine Woman! This site has information on the show, photos, links, scripts, a message board and more! Linked to the official site through the Dr. Quinn Forum.
Discover Live Steam - The hobby of live steam. This is the place learn about live steam model railroading. Database of international live steam clubs, live steam railroad books, live steam DVDs and VHS, links to other live steam train sites.
Dr. Quinn Insight - Dedicated to Dr. Quinn, with information on the show and cast members, a page devoted to working for a 3rd DQ movie, photos, fan fiction, message board, links and more.
DQMW: a Trivia Tribute - Paying tribute to a wonderful show, this site mostly presents trivia about the show and the actors/actresses.
French Fan Club for Dr. Quinn - For those of you among our international visitors and whose native country is France or who speak French, this site is for you. You can also contact the fan club president here.
French Official Dr. Quinn web site - The official site has been translated into French. Stop by and take a look, even if you don't speak French.
German Dr. Quinn Site - Christina's German Dr. Quinn site. Includes photo galleries, cast listing, episode guide, a quiz and a message forum for the German fans.
Jennifer Johnson's Sapphire Dreams DQ Site - A site dedicated to her love of Dr. Quinn and featuring the wallpapers which are included on this site in the Gallery.
Judy's Dr. Quinn Journal Site - Read her personal experiences from visiting the set several times and about her meetings and interactions with many of the cast members.
Mandy's Mike & Sully Yahoo Group - This site contains hundreds of pictures from the show and of Jane Seymour. Mandy's fan fiction is also found here. And all the latest news is posted on the message board.
Michaela Quinn Site - Primarily a fan fiction site featuring information on characters created in fan fiction, you can also find information about Michaela Quinn. They are seeking fan input and contributions.
Online World of Dr. Quinn - A Dr. Quinn site created by Emma featuring photos, an episode guide, and more. Linked to the official site through the Dr. Quinn Forum.
Pacific Resident Theatre - The place where many cast alumni have appeared on stage in various productions. Frank Collison is actively involved with the company when he's not filming his movie projects.
Stephanie's Dr. Quinn site - A site about Dr. Quinn with some new things to explore.
Michaela and Sully
Carolyn W's stories
Debby K's stories
Pam H's stories (Australia)
Scout's stories
Tiff's stories
Colleen and Andrew
Compilation of C&A stories
Colleen & Andrew stories
Other Characters
Gypsy's After the Rain
McKay's Story
Misc. Stories
Esther's stories
FanFiction.Net (Dr. Quinn category)
Ganna's Dr. Quinn Fan Fiction Site (novels following season 6)
Megs' stories
NFiction.Net (new site; Dr. Quinn category)
S.L. Snyder's stories
Virtual 7th Season, the
Virtual 8th Season, the
For a complete list of other stories and where to find them, download the Ultimate FanFic List in RTF standard text form, which has hypertext links and may be opened with any computer/OS. You can also download the ZIP file.