Gold Nugget Saloon and Hotel
Hank Lawson - Proprietor
---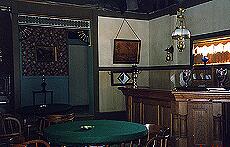 Gather with other Dr. Quinn fans to chat over a whiskey or sarsaparilla. Share your thoughts about the townsfolk, this town, or any other topic which strikes your fancy.
You can also check out information about lodging in and around the P-Ranch set and Colorado Springs.
The Gold Nugget is fully open for business! There are presently no scheduled times to gather, but if you start a regular chat time with others, please let us know, and we'll get it posted.
WELCOME TO THE GOLD NUGGET
Instructions:
Please Read!
For access through this web site: Click on the link at the bottom of this screen
The page will load automatically.
Once the room loads, choose your method for logging in (e.g. facebook, twitter, guest, or rumbletalk).
Leave everything else as is.
Click "login" and come on in!
Problems? Contact us and detail your problem(s) so we can troubleshoot and help you gain access.
Welcome to the Gold Nugget! We're glad you stopped by!