Good Nite Inn in Calabasas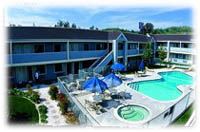 26557 Agoura Road
Calabasas, California
Phone: (818) 880-6000

It's 2 or 3 exits east of Agoura Hills, about 7-10 minutes timewise from P-Ranch. It isn't fancy but it is clean. A number of visitors to have stayed there when traveling to the P-Ranch.

Please go to their website to check on the current room rates and discount packages available. They do have a pool and Jacuzzi, but no restaurant in the hotel. They have ice machines and a soda machine. Complimentary coffee is in the lobby every morning. There is a McDonalds a few blocks away, as well as several other restaurants within a few blocks radius of the hotel. In the rooms, there is a listing of the places that will deliver to the hotel, but most of the delivery times end at 9:00 or 10:00 pm.
Radisson Hotel in Agoura Hills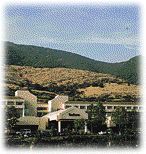 Radisson Hotel
30100 Agoura Road
Agoura Hills, CA 91301
Phone: (818) 707-1220

This hotel is closer to the P-Ranch (3-5 minutes) and has its own restaurant. Also, there are many restaurants nearby. Please check their website for current room rate information.